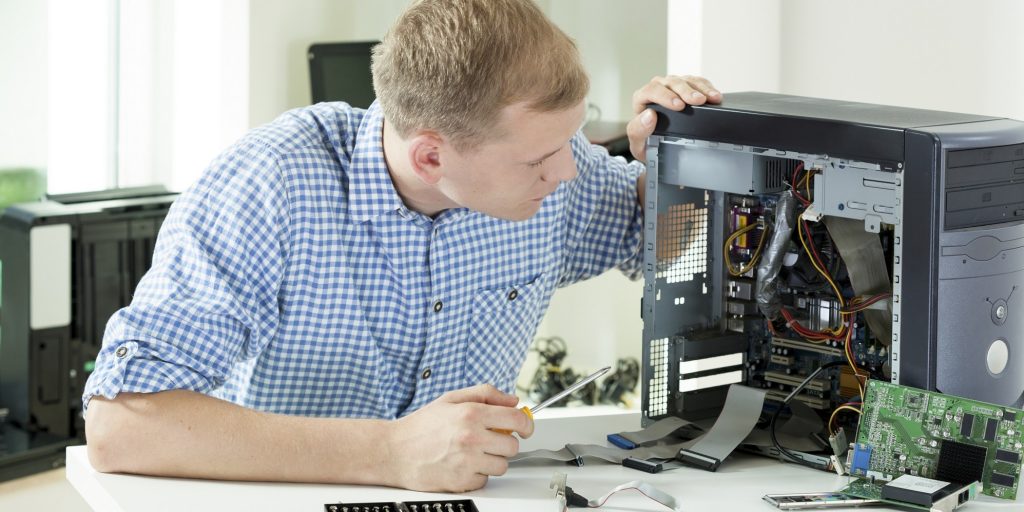 Computer Repair Etobicoke - Laptop Repair Etobicoke
Whether it's for entertainment, work or doing business, having a fully functional computer is vital. When it develops a fault, malfunctions or starts to underperform, the outcome is always negative. A simple glitch can drastically affect your productivity or limit your work, school, and social capabilities.
At Q Wireless (Computer Repair Etobicoke), we fully understand the loss and frustration of having a computer or laptop that you heavily depend on suddenly begin to malfunction or stop working.
Fortunately, with many years of experience fixing different models and brands of computers, we can help you with virtually all your computer problems with short turnaround time.
Utilizing their experience and expertise, our technicians work diligently to evaluate the specific problem affecting your computer and perform appropriate repairs saving you the expense of buying a new computer.
Once you bring your PC or laptop to us, we will start the repair process by examining it to determine the root cause of the problem. When it's located, our technician will make an accurate diagnosis and then establish a workable solution to remedy the specific problem and restore your device to normal operating standards.
It doesn't matter if it's a software malfunctioning or some other hardware issue. The broad spectrum of repair services we offer is designed to cater for different types of situations.
Get a Free Quote
Our Services Include:
Motherboard & Video Card Repairs
Diagnosing a bad motherboard is not easy. There is no way of knowing what to repair until you've tested everything. This is no small task and can take hours when not done properly. In fact, some computer repair outfits will render a laptop beyond economical repair when they find a motherboard failure.
However, repairing a motherboard is a specialist task which requires time, patience and the expertise of a very skilled technician something that you won't find in your average repair shop.
Our technicians at Q Wireless have been performing motherboard repairs for years, and with their experience, they can fix complex motherboard problems saving you hundreds of pounds.
On the other hand, considering that most modern graphics cards are somewhat miniature computers with a board that's much like a motherboard, repairing one also requires a highly skilled specialist. This is another component that our technicians are well versed with, and you can count on them to fix it. Visit our computer repair Etobicoke store today.
Laptop Screen Repairs / Broken Laptop Screens
The screen is a fragile piece of a laptop, and without it, there is very little you can do with your machine. Whether it has accidentally cracked or suddenly stop to function, we can always help.
Depending on the magnitude of the damage, we can repair or totally replace your laptop's screen should it be beyond repair.
If it's cracked but keeps flickering or fails to work, our technicians will be able to perform proper diagnosis upon which they will know what causes your screen to malfunction and make the necessary repairs.
Networking issues
If your computer or laptop has networking issues, then you need not worry. At Q Wireless we have experts that have specialized in this area and can assess and identify any problems with your laptop's network setup or hardware.
Upon determining the network issue, our technician will carry out proper configuration or implement fixes depending on the identified problem ensuring to eliminate any future connectivity issues. Bring it to our computer repair Etobicoke store for a quick fix.
Data Backup and Recovery
If you, unfortunately, happened to delete your precious files or encounter problems with accessing your data due to hard disk failure or malfunctioning and you want them recovered, then we are more than happy to help.
This is a specialist service, and at Q Wireless we have technicians who have specialized in data recovery.
They have the experience and skills to retrieve data on a hard drive, repair any files that are partially corrupted and return the data to you.
We utilize modern equipment in data recovery to make sure that the files don't get damaged permanently during the retrieval process. We offer both data recovery and data backup.
Dc Jack Repairs
When you send your laptop to Q Wireless for a Dc Jack repair, our technicians will conduct a full diagnosis before proceeding to the repair process. This is important because we've learned through experience that tempering with the Dc Power Jack for long can cause some serious damage to the motherboard.
We will require your charger, the one you have been using to charge your laptop to conduct several tests. This again is something we've learned through experience. We can use one of our units to test and repair the system, but in some cases, your charger might not work with the repaired system.
So, we will request you to send your charger along with the laptop so that our technician can ensure that the whole system is fully functional.
Virus Removal
A virus can infect any computer or laptop that is not adequately secured, and there are even some sophisticated viruses today that can damage a computer's physical hardware.
Here at Q Wireless we can view your system setup, analyze it and your network activity, remove any possible software bugs even the most stubborn of rootkits, and ensure that all the anti-virus editions you've installed are updated.
Most service providers would simply back up all your data and then proceed to re-install the operating system. We are experts at what we do, and we will remove the virus without affecting your files or settings.
Touchpad not working
The touchpad is a vital component of your laptop. Without it navigating through your computer can be a problem. Therefore, it can be frustrating when you are in the middle of a project or an urgent work assignment, and the touchpad freezes up or skips then completely stops to function.
Well if this is the case, then you don't have to panic. Our technicians are very able to help you, and they can repair or replace the touchpad to make sure that the cursor no longer poses any difficulties when working on an urgent assignment.
In general, many issues can compromise the performance or efficiency of your computer or laptop system. We are not able to list all of them, but here are a few other repairs and services that we offer.
New Software Installation and Operating System Software
Custom Build Computers
Replacement Battery and Chargers
Laptop heating up
Laptop & Computer Accessory Sales
Computer Parts
Recycle your Old Computers and Equipment for Cash
New Hardware Installation and Setup
Final Word
At Q Wireless, we take computer and laptop repairs very seriously. We have the experience and the expertise to diagnose and repair both laptops and desktop computers whether they are not functioning properly or not functioning at all.
You will always get the right help you need because we have dedicated expert technicians and we provide a wide range of repair solutions. So, whatever might be wrong, rest assured it will be resolved effectively and efficiently.
Don't wait, visit our Computer Repair Etobicoke store to get it fix quickly.
Contact us
100% satisfied customers & Guarantee
Well Qualified and Professional Technicians
No charges on Analysis and Opinions
Devices will be completely sealed from dust and moisture
Quick and Fast Turnaround time for Repair
Service prices are much lower than any other service centre
About an 95% chance of fixing your water damaged
Original Parts for your Device
Guarantee for Mobile Phones
Computer Repair Etobicoke
Laptop Repair Toronto
Laptop & Computer Accessory Sales
Computer Parts
New Hardware Installation and Setup
New Software Installation and Operating System Software
Motherboard & Video Card Repairs
Laptop Screen Repairs / Broken Laptop Screens
Replacement Battery and Chargers
Networking issues
Data Backup and Recovery
Dc Jack Repairs
Custom Build Computers
Recycle your Old Computers and Equipment for Cash
Virus Removal
Laptop heating up
Touchpad not working