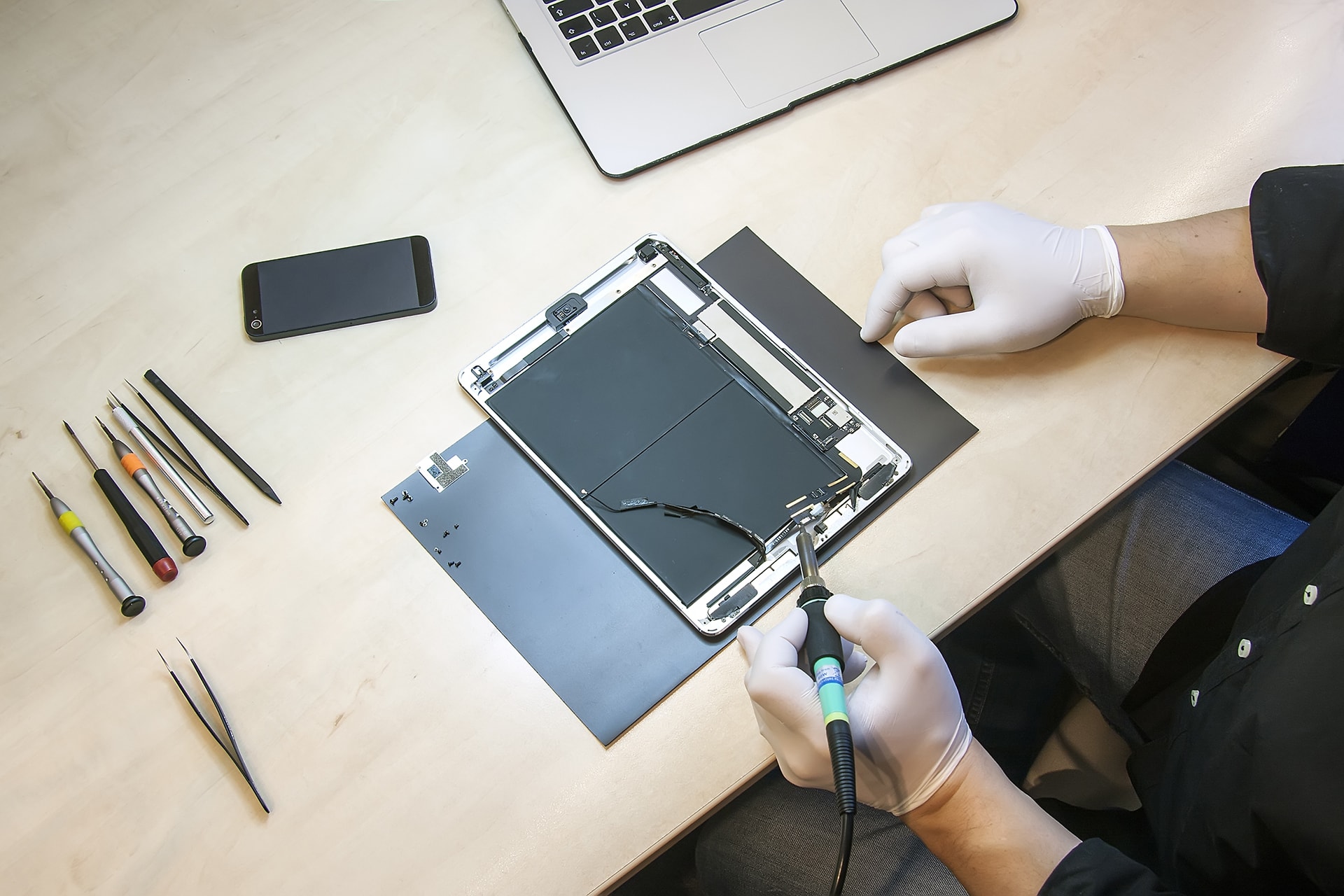 Samsung Tablet Repair Etobicoke
Tablets provide convenience and portability which has made them a more popular alternative to laptops and even smartphones. They might not fit in the pocket, but like phones, they can be taken everywhere thanks to their compact size and used constantly.
The downside though is that similar to a phone, the chances of a tablet getting damaged is high compared to laptops especially when accidentally knocked or dropped. On top of this, due to their small size, delicate internal circuitry and frequent use of adhesive, repairing tablets is often more involving than laptop repair.
Nonetheless, if your tablet is damaged or it's malfunctioning don't panic. Rather than throwing it away or sending it back to its manufacturer for a potentially expensive and time-consuming repairs, bring it to us and we will professionally fix it at quite an affordable price.
As experts in mobile and computer technologies, we strive to optimize all our tablet repair services, and in so doing soften the blow that often comes when a tablet is accidentally damaged or starts to malfunction.
Combining the latest technology on the market with highly skilled engineers, you can expect nothing but outstanding service. Our trained technicians can repair almost all type of problems, from water damage to broken screens, and everything in between.
Once you bring the tablet, we will examine and accurately diagnose the issue first, then begin the repairing process making sure to replace only those parts that cause the problem.
When the repairs are done, we will perform a test again to ensure that your tablet is working properly before returning it to you.
Our technicians are fully trained to handle repairs for a wide range of tablet brands and models, so whether it's an iPad or a Samsung tablet, you can rest assured that we will fix it.
Get a Free Quote
Visit our Samsung tablet repair Etobicoke store and check out our great selection of Tablet Repair Services:
Screen Glass Replacement
No one intends to damage their tablet but accidents happen, and when it drops, and the screen breaks it's natural to get frustrated. At Q Wireless we are well aware that these situations happen. It doesn't matter how you broke the screen or who did it.
We will get your tablet, examine the damage and carefully replace the screen with a quick turnaround. We stock replacement parts for most tablet brands, so repairs are easily done as fast as possible or rather within the same day.
Glass and LCD replacement
In some tablet models, the display screen and the touch screen (digitizer) are separate components. We might not need to replace the whole screen.
When you bring your tablet, and it falls into this category, we will determine the extent of the crack and perform the appropriate service. This will involve separating the two screens and replacing only the one that's damaged saving you the cost of having to replace the whole screen.
On the other hand, in some newer models, the screens are assembled as one unit. In this case, if only one part is damaged both screens will need to be replaced. This repair takes less than 1 hour. Visit our Samsung tablet repair Etobicoke store today.
Dim screen is another problem that tends to affect tablets after prolonged use, and if this is the case with yours, then our technicians will determine the cause of the problem and perform appropriate repairs without affecting any functionality of the screen.
Therefore, whether you are a victim of the first case, the second or the third it doesn't matter because our engineers will get the job done.
Contact Us
Charge Port Repair
One of the most common reasons for a tablet not charging or not powering on is a damaged charger port. This problem usually occurs due to oxidation of the port or sometimes just normal wear and tear. If this is the case, then our technician can have the damaged charger port replaced and back in working condition within a few hours.
Power Button Repair
A damaged power button is another common problem when it comes to tablet repair. Often this issue occurs as a result of general wear and tear around the button which can cause it to malfunction after prolonged use like a year or two.
Sometimes the power button can also cease functioning when a tab is dropped. Considering that this is not a complex problem, we can repair the power button with little hassle and have your tablet back in your hands in two hours.
Aside from the power button, our technicians can equally fix any other button malfunction with the same ease and turnaround.
Liquid Damage
Tablets and water don't mix well. If you were unlucky enough to get your tab wet, help is at hand.
Water or even moisture getting to contact with the internal circuitry of a tablet can damage some vital areas and cause issues with functionality or even worse make the tab not to boot up.
Thankfully, our technicians are well versed with this problem. They can repair almost any fault caused by water damage.
Tablet not Turning on
Like I mentioned above, a power button malfunction or damaged charger port can cause a tablet not to power on. But if none of this is the case, then the issue could be a faulty or damaged mainboard.
Our engineers can perform full repairs on the damaged board, and get your tablet up and running in no time. Visit our Samsung Tablet Repair Etobicoke store today.
Software not Booting
Another thing that might cause a tablet not to boot is a software fault. Also, if you have a tablet that's always glitching, freezing or crashing, then the problem is likely related to a software malfunction.
When you bring your tablet to our technicians with this problem, they can perform a reflash which is one of the ways that can restore the tab to proper functioning.
We will remove the current firmware running on your tab, and reinstall it all over again so as to remove viruses and solve any issues with glitches or tablet not booting.
On top of all these services, we can also fix defective components. If there is a problem with your tablet's speaker or camera, then you can count on us to fix it.
Final Word
Given our expertise and experience in mobile and computer repair industry, we can effectively handle almost all cases related to tablet repair.
Therefore, if you are a victim of a damaged or defective tablet and you are looking for a reliable, versatile and professional repair service, then look no further. Just contact us. We have parts in stock and committed technicians ready to serve you.
Don't wait, visit our Samsung Tablet Repair Etobicoke store to get it fix quickly.
Contact us
100% satisfied customers & Guarantee
Well Qualified and Professional Technicians
No charges on Analysis and Opinions
Devices will be completely sealed from dust and moisture
Quick and Fast Turnaround time for Repair
Service prices are much lower than any other service centre
About an 95% chance of fixing your water damaged
Original Parts for your Device
Guarantee for Mobile Phones
Samsung Tablet Repair Etobicoke
Samsung Tablet Repair Toronto
Screen glass replacement
Glass and LCD replacement
Charge Port repair
Power button repair
Speaker repair
Button Malfunction
Camera Issues
Liquid Damage
Dim screen problem
Tablet not turning on
Software not booting