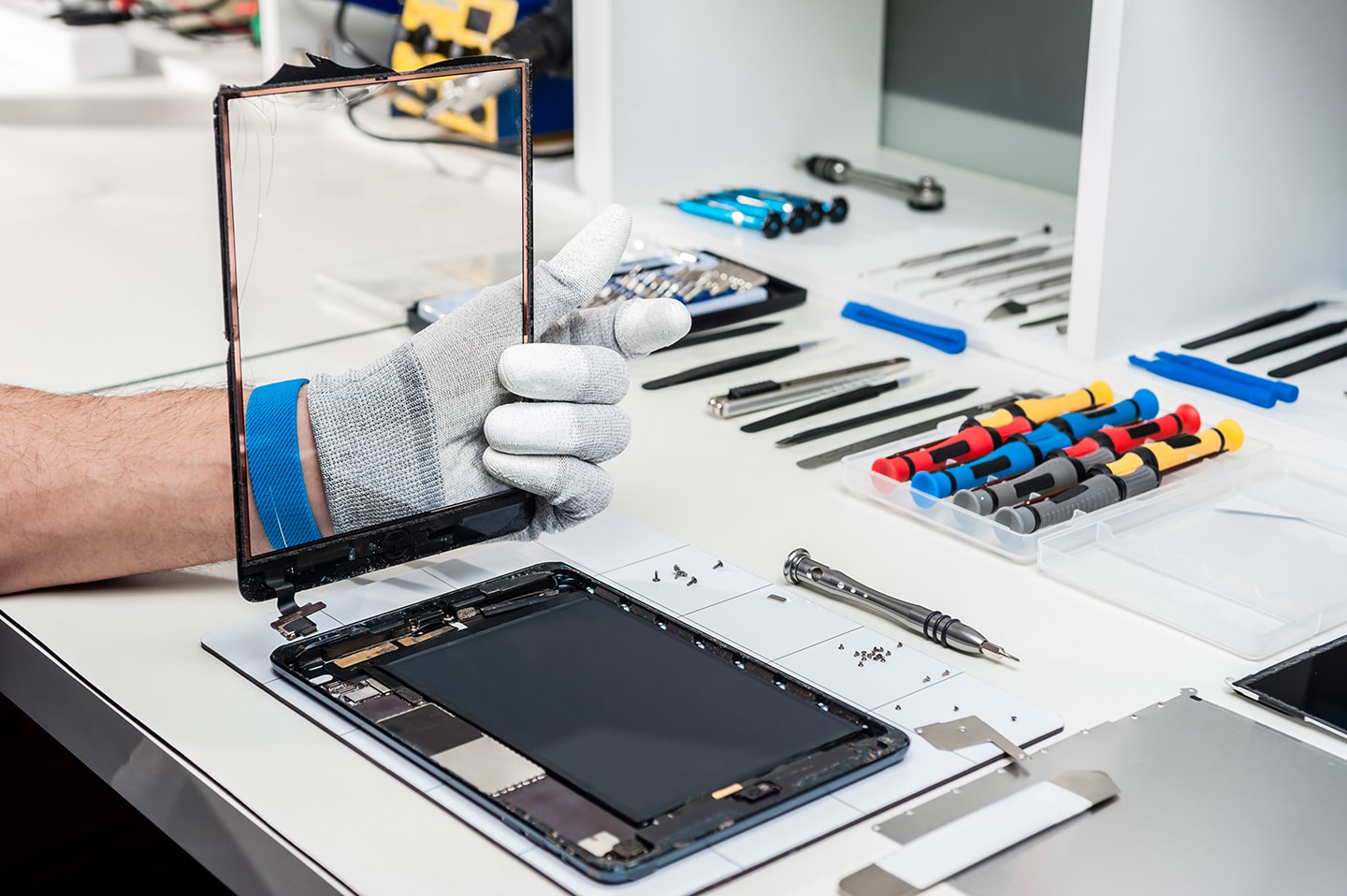 iPad Repair Etobicoke & Toronto
Apple products come highly recommended. However, just like any other great product, these devices are not immune to tear and wear, be it accidental or due to prolonged usage. One of the Apple devices we repair and service is an iPad. Our quality repair parts, state of art tools plus experience will give you peace of mind, knowing that we have your back whenever your iPad necessitate repairs. Check out our great selection of Tablet Repairs at our Ipad repair Etobicoke store:
One of the greatest features of an iPad is its huge screen. Mechanical damage or water damage can significantly prevent you from enjoying the quality of the display. You could be experiencing dim screen problem, grainy displays, lines across the screen, or total blackout. If you visit our shop, our technicians, who are approved expert in iPad screen replacement will offer quick yet a lifetime guaranteed screen repair. This repair takes less than 1 hour. Visit our iPad Repair Etobicoke store today.
There is a lot of ways water can find its way into your iPad. Whichever the case, the result is devastating. In most cases, the IPad will start heating up and in worst scenarios, does not turn on. This is where we come into play. While fixing iPad liquid damage is a tedious and complicated repair service, our technicians are not only trained to fix this specific device but also any other Apple gadget in the market today. Liquid damage repair starts by dismantling the iPad, then cleaning with isopropyl alcohol and the aliphatic hydrocarbon. We will later flash out any debris and test if the iPad has come back to life. By the time you leave our shop, your iPad will be as good as new.
Get a Free Quote
IPads are fragile. With their large screen, one ought to handle these delicate devices with a lot of caution. If your glass and LCD is broken, just bring in the iPad and we shall fix it. On LCD cases we will start by diagnosing the extent of damage and if it needs both glass and LCD replacement. Sometimes we repair not only the broken glass but also the cables, buttons, and switches for an iPad to get working. While such services might cost you extra, any minor dents on the plate are repaired for free.
It's fun to capture moments using an iPad. Its size plus functionality makes the device favorite among photography aficionados. IPad cameras issues can give you sleepless night if you were looking forward to that special event. If you are having a problem with your IPad camera we can quickly replace the iPad camera with another high-grade camera.
Is your tablet not turning on? This could be due to water damage, screen problem or power button issue. If you need iPad power button repair or need a button malfunction fixed, we got you. Most of this issues are software related but if our diagnosis show otherwise, we can work on the hardware and get them working.
It's easy to know if your iPad charge port needs repair. How? If all chargers don't work and the device OS is working okay, then your pad port need replacement. Luckily this is a quick fix repair in our shop. In fact, you can pass by our shop in the morning, have it replaced and get to work in time.
Remember the iPods? An iPad has integrated the device features so you can continue to enjoy quality music. It's frustrating to buy music on iTunes for the quality to be distorted by your IPad speakers, right? Suffer no more. At our repair shop, we have all types of iPad replacement speakers be it IPad Air, IPad 4, IPad mini's e.tc. Visit our iPad Repair Etobicoke store for a great verity of parts.
Since its launch, Apple iPad has taken the market by storm and is projected to maintain this for many years to come. However, like most cases of mobile technology, the iPad has its share of software flaws. One of these issues is software not booting. In most cases, the root of the problem is a rogue application. While some users can pull a DIY repair, cases of a virus can cause the problem to recur calling for specialized attention. We offer a helping hand for a small fee, ensuring your device is running flawlessly regardless of the software malfunction.
The above is just but a handful of the iPad services we offer at our shop. The baseline, if you have any issue, no matter how hopeless it looks, come by at our repair shop and you might witness the 21st miracle. So there you have it for this iPad repair services we offer. If you are facing an issue we did not mention, let us know and we shall try our best to have the solution available.
Don't wait, visit our iPad repair Etobicoke store to get it fix quickly.
Contact us
100% satisfied customers & Guarantee
Well Qualified and Professional Technicians
No charges on Analysis and Opinions
Devices will be completely sealed from dust and moisture
Quick and Fast Turnaround time for Repair
Service prices are much lower than any other service centre
About an 95% chance of fixing your water damaged
Original Parts for your Device
Guarantee for Mobile Phones
iPad Repair Etobicoke

iPad Repair Toronto
Screen glass replacement
Glass and LCD replacement
Charge Port repair
Power button repair
Speaker repair
Button Malfunction
Camera Issues
Liquid Damage
Dim screen problem
Tablet not turning on
Software not booting